Osher Lifelong Learning Institute
The Deer Valley Petroglyph Preserve develops themed lecture classes with the Osher Lifelong Learning Institute at ASU that are offered onsite at the preserve. The classes specialize in cross-disciplinary topics including life sciences, archaeology, anthropology and global health and are led by ASU faculty and graduate students each year during the fall and spring semesters.
OLLI at ASU's lifelong learning is offered to anyone ages 50+ and for a minimum membership fee. For current class offerings, benefits, and membership information, please visit the institute's website.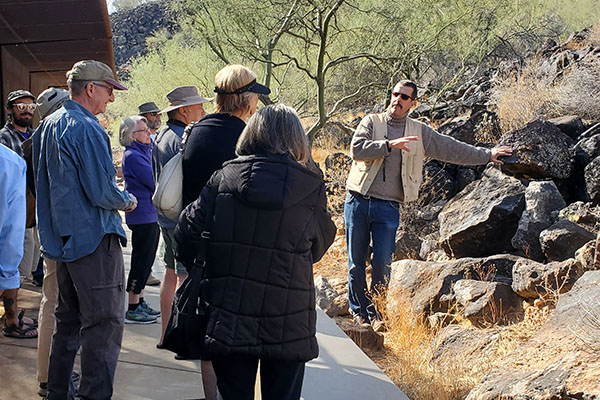 Past classes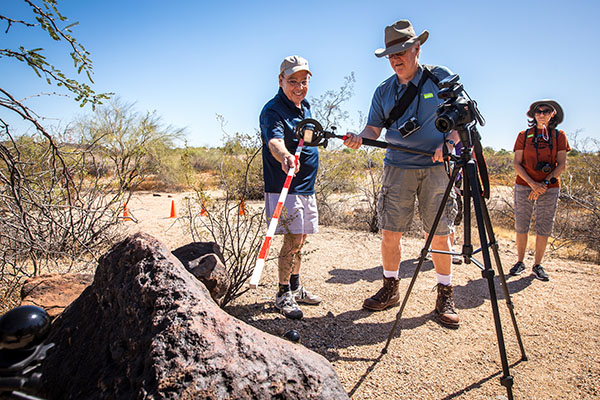 "Learning to Love Lichens" | Frank Bungartz, collections manager of lichens and digital data
"Ancient Lives Under the Microscope: Expanding Archaeology with Chemistry" | Professor Kelly Knudson, Andrew Zipkin and Alexandra Greenwald
"The Art of Rock Art: Hands on Methods for Archaeological Photography" | Associate Professor Matt Peeples
"Making, Moving and Using Pottery in the Ancient Southwest" | Katherine Dungan, Caitlin Wichlacz and Sara Oas
"Cities and Empirers in Ancient Mesoamerica" | Professor Michael E. Smith, Angela Huster and Adrian Chase
"Archaeology in Practice: Exploring Different Specializations within the Field" | Jonathan Paige, Sofia Pacheco-Fores and April E. Kamp-Whittaker
"Making, Moving, and Using Pottery in the Ancient Southwest" | Katherine Dungan, Caitlin Wichlacz and Sarah Oas
"Humans and the Environment" | Claudine Gravel Miguel, Sara Klassen and Christopher Caseldine
"Archaeology of the Unseen" | Associate Professor Matthew Peeples, Emily Fioccoprile and Katherine Dungan